Surf Village 09
3113 Atlantic Ave Ocean City, MD 21842
1 person has viewed this property in the last 36 hours!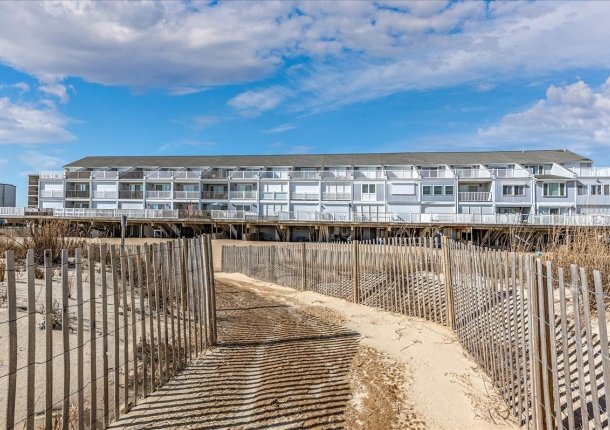 Townhouse
Ocean Front
Sleeps 12
4 Bedrooms
Beds Q, Q, Q, D & 3T & Trundle
4 Baths
1 Parking Spots
Walk out of your unit and onto the beach from the porch of this 3 level townhouse. This 4 bedroom 4 bath townhouse accommodates 12 people with ease. With great ocean views from the multiple oceanfront decks, its a great place to be with children - just run right in and out of the house! The kitchen is equipped with dishwasher, microwave, washer/dryer, there is also 3 TV'S, and a/c. Parking for 2 medium sized vehicles, or 1 over sized. Non smoking, no pets please. Occupancy 12. Please note - sheets, towels, paper and cleaning products not supplied. A linen package including sheets and towels can be rented for an extra charge. Starter package provided by owner which includes a small amount of coffee, coffee filters, soap, toilet paper, paper towels.

Our cancellation policy: If you cancel anytime outside of 90 days before check in, you get a refund minus $100.00. Within 90 days of check in, the property must re rent before any refund is given, then you would lose $100 plus 16% of the base rent.
Amenities
Washer and Dryer
Cable TV
Central AC
Microwave
ilink : ilink Booking
Blender
Drip Coffee Maker
Keurig Coffee Maker
Dishwasher
Disposal
Iron & Iron Board
Refrigerator
Stove
Toaster
Vacuum
Wifi Choices : Free Wifi
Location
Rates
| Dates | Nightly | Weekend | Weekly | Minimum Stay |
| --- | --- | --- | --- | --- |
| Jan 1 - Apr 19 | $713 | | $4,995 | 7 Nights |
| Apr 20 - Apr 26 | $713 | | $4,995 | 7 Nights |
| Apr 27 - May 3 | $713 | | $4,995 | 7 Nights |
| May 4 - May 10 | $713 | | $4,995 | 7 Nights |
| May 11 - May 17 | $713 | | $4,995 | 7 Nights |
| May 18 - May 24 | $713 | | $4,995 | 7 Nights |
| May 25 - May 31 | $713 | | $4,995 | 7 Nights |
| Jun 1 - Jun 7 | $713 | | $4,995 | 7 Nights |
| Jun 8 - Jun 14 | $713 | | $4,995 | 7 Nights |
| Jun 15 - Jun 21 | $713 | | $4,995 | 7 Nights |
| Jun 22 - Jun 28 | $885 | | $6,195 | 7 Nights |
| Jun 29 - Jul 5 | $842 | | $5,900 | 7 Nights |
| Jul 6 - Jul 12 | $913 | | $6,395 | 7 Nights |
| Jul 13 - Jul 19 | $913 | | $6,395 | 7 Nights |
| Jul 20 - Jul 26 | $999 | | $6,995 | 7 Nights |
| Jul 27 - Aug 2 | $900 | | $6,300 | 7 Nights |
| Aug 3 - Aug 9 | $900 | | $6,300 | 7 Nights |
| Aug 10 - Aug 16 | $756 | | $5,295 | 7 Nights |
| Aug 17 - Aug 23 | $857 | | $6,000 | 7 Nights |
| Aug 24 - Aug 30 | $785 | | $5,500 | 7 Nights |
| Aug 31 - Sep 6 | $714 | | $5,000 | 7 Nights |
| Sep 7 - Sep 13 | $671 | | $4,700 | 7 Nights |
| Sep 14 - Sep 20 | $671 | | $4,700 | 7 Nights |
| Sep 21 - Dec 31 | $671 | | $4,700 | 7 Nights |